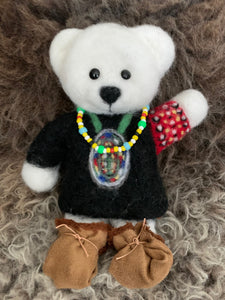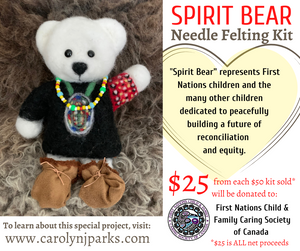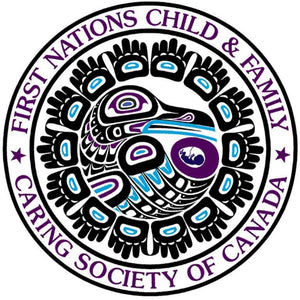 Spirit Bear - Needle Felting Kit
Regular price
Sale price
$38.00
---
This kit's net proceeds will be going to the First Nations Child & Family Caring Society of Canada.
*Please note that if you are buying any more than 2 kits, I will need to determine your specific shipping cost and send you a shipping invoice separate to your order cost (deducting any amount you pay online here of course). This is due to the multitude of combinations of orders based on delivery locations and size of shipping packages! Thank you for your patience!
I am SO excited to have a VERY special kit on offer right now: Spirit Bear. The story of Spirit Bear and mandate of The Caring Society is inspiring and describes why I wanted to take on this project. It is through action that we Canadians can show that #everychildmatters. And by making your very own Spirit Bear, you can not only have fun (on your own or with a child) with felting and creating, but you can proudly display Spirit Bear and show your support for our nation's youth. The VERY BEST NEWS is that alongside getting Spirit Bear out there far and wide and activating others, $25 of EVERY KIT SOLD will be donated to FNCFCS. This means you can create and donate!
Now let me introduce you to Spirit Bear, the little guy who instantly warmed my soul and conjured the faces of thousands of bright-eyed, happy children. Or, faces that I WANT to see bright-eyed and happy:
A member of the Carrier Sekani Tribal Council, Spirit Bear represents the 165,000 First Nations children impacted by the First Nations child welfare case at the Canadian Human Rights Tribunal, as well as the thousands of other children who have committed to learning about the case and have taken part in peaceful and respectful actions in support of reconciliation and equity. Spirit Bear joined the Caring Society team in 2008 and immediately committed himself to witnessing all of the Tribunal hearings. In June 2017, Spirit Bear was awarded an honourary "Bearrister" degree from Osgoode Law School! And in 2017, he was officially admitted to the "Bear" by the Indigenous Bar Association :).
The Caring Society works to ensure the safety and well-being of First Nations youth and their families through education initiatives, public policy campaigns and providing quality resources to support communities. Using a reconciliation framework that addresses contemporary hardships for Indigenous families in ways that uplift all Canadians, the Caring Society champions culturally based equity for First Nations Children and their families so that they can grow up safely at home, be healthy, achieve their dreams, celebrate their languages and culture and be proud of who they are. The Caring Society proudly works with its partners in Canada and around the world to promote the rights of Indigenous children.
Please visit the FNCFCS site to learn all about this amazing organization that works tirelessly at the national level to achieve its goals for First Nations youth and families.
With your purchase of this Spirit Bear needle felting kit, you will receive:
- Enough wool to create your very own Spirit Bear (the one picture is approximately 7.5" head to toe)
- 1 6" x 6" foam pad 
- 3 felting needles
- Beads with fine cording/fishing line for necklace (you assemble!)
- 2 squares of ultra-suede for moccasins with 2 tie cords
- 2 glass eyes
- Instructions - introduction to felting plus step-by-step details
- Background about FNCFCS
- A blank card featuring a design of painter Jennifer Horst (Jen Horst is an Ontario artist with Indigenous heritage. Find Jen on IG at: jenhorst.3) as a special thank you - while supplies last!
- extra wool for playing!
Please allow for time for assembly of your kits. This is a volunteer and charitable endeavour. In addition, COVID mail delays will certainly apply in some cases. I appreciate your patience as well as your love and care! 
Please show your support for this project by sharing out. Even if you don't want to personally felt, this would make a lovely gift and also might be of interest to teachers, school boards, outreach organizations, corporate volunteership leaders and more. So let's get going: create and donate!
*This is a FNCFCS - approved project