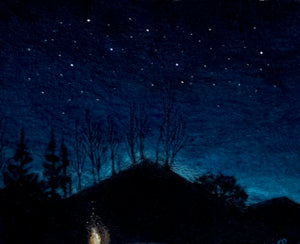 Welcome! My name is Carolyn and I am a wool painter and needle felter living and art making in St. Jacobs, a small village west of Toronto, Canada.
I welcome you to explore my site and revel in the vibrance and visual texture of this special fibre.
I'd like to tell you about my Learn To Paint and Draw With Wool classes offered in my beautiful St. Jacobs studio. I'm also very excited to introduce my first guest artist ever - Inna Zhereshchina will be teaching a class November 25 - making a scarf!
Beyond offering my own classes, I have some exciting workshops lined up with guest artists in the new year. Check them out and register early so you don't miss out!
Wet and needle-felted art often create reactions of wonder in people. Even though wool has been used literally since antiquity by many cultures for clothing, decor and art, it is still not recognized widely for its modern use in art. From the whimsical to majestic, to the fashionable to the functional, wool is versatile, exciting and gorgeous.
Make sure you sign up for my newsletter (don't worry - I'm not a spammer!) to stay in touch. And of course, never hesitate to drop me a line.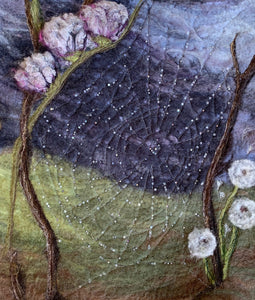 My art
I am so happy to present my wool paintings and table runners. These pieces of art are created through the process of wet felting using the most beautiful colours of sheep's wool roving.
It is accurate to call these 'paintings', as I use my hands like a brush and the wool like paint to create strokes, accents, depth and blending to create the effects I want.
As a fibre artist, I'm excited to be on this amazing learning journey with wool and hope that you will love looking through my site. If you are interested in commissioning me to do a piece, please contact me directly.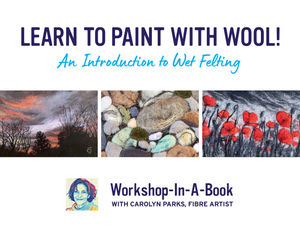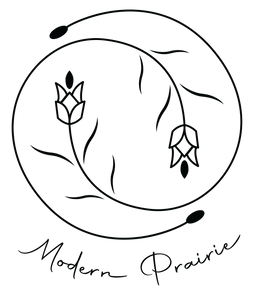 Join The MODERN PRAIRIE COMMUNITY!
I'm so thrilled to be building a wonderful relationship with an exciting lifestyle community online. Founded by Melissa Gilbert of Little House on the Prairie fame and CEO Nicole Haase, this amazing brand has been created to develop an authentic and engaged community that encourages women to find their identity and joy as they move through life's many stages.
With an amazing new app offering everything from cooking and gardening, to 'heart to heart' talk and self development and wellness, Modern Prairie offers so much. Its website shares a portal into so many mini worlds, including podcasts, interviews, events, an exciting charitable giving campaign and more.
I'm very excited to be one of a handful of "Trusted Prairians" (hey, isn't that cool? You know you must be in someone's good books when you are a trusted prairian!) who will be offering events in felting and working with Modern Prairie to develop a very special product end of 2024.
Please join this community and see why 150,000 women have decided to follow this amazing group of women in just over a year since its inception. See you there!